Last week, I posted a love note to my friends in Sisters in Crime for their support and generosity. After all, it was Thanksgiving, a traditional time to be grateful for the people in your life. Afterwards, I thought about all of the other people and things I have to be thankful for and thought why limit my thanks to one day a year? I could do more! So here's Thankful Thursday, Week 2.
This week, I'm thankful for books and bookstores and raising a kid who loves to read.
Last week, the boyo brought two books along for the four-day Thanksgiving trip to the grandparents' house. By Day 3, Thanksgiving Day, he had finished both. And he wanted more.
I offered to let him borrow my Kindle. Grandma offered her Nook. Then I suggested, despite my aversion to Black Friday shopping, that we might be able to venture out to a bookstore.
"Of all the options," he said, "I like that one best."
And that's how we found ourselves in a chain bookstore in a strip mall in Western Kansas on Black Friday.
It was so worth it.
The boyo picked out two books, and by the time we arrived back home on Saturday, he was halfway through one of them.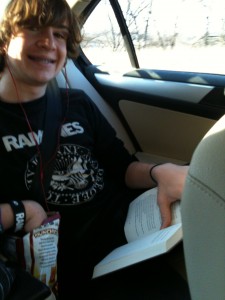 I am extremely thankful he's a reader, despite the many, many other entertainment options available to him. To see him totally engrossed in a book gives me a lift, as if we've done okay as parents. I'll admit, too, that even though I read a lot of e-books, I got a little thrill when he said he preferred a trip to an actual bookstore.
That's the second thing I am thankful for this week: That we were able to take him to an actual physical bookstore when he needed a new book, that such places still exist. I can't imagine a future without a bookstore.
That's why I love the whole idea of Take Your Child to a Bookstore Day, founded by the delightful Jenny Milchman. This year's Take Your Child to a Bookstore Day is this Saturday, December 7.
While I'm being thankful for bookstores, I'll mention two of my favorites: the Raven in Lawrence, Kan., and Mysteryscape in Overland Park, Kan., both excellent choices if you're taking your kid or yourself to a bookstore this weekend.
Bonus video: A few months ago, Jenny visited Mysteryscape to promote her book, Cover of Snow. Here's a short clip from her appearance, courtesy of Patrick Balester.